To extract spectator databases follow these simple steps:
1. Go to the CRM tab in the top menu.
2. Click on Queries and four filters will be displayed to allow you to edit your enquiry.
Personal details (Age, sex, country and/or province)
Group, subscription lists* and channels: Select any of the following options: ONE OR NONE
Authorization for sending communications (If they have agreed or not agreed to receive advertising)
Subscription lists (They must have been previously created in CRM > Queries and been assigned to the corresponding event)
Groups (If clients are linked to any group)
Channels (Select the channels that interest you)
Business Data
Products
3. Filter the information of your database by selecting the information that you want to show in the report.
4. Once selected, click Run Query to see the report on screen with the requested details. You can also export it to an Excel file by clicking Export results.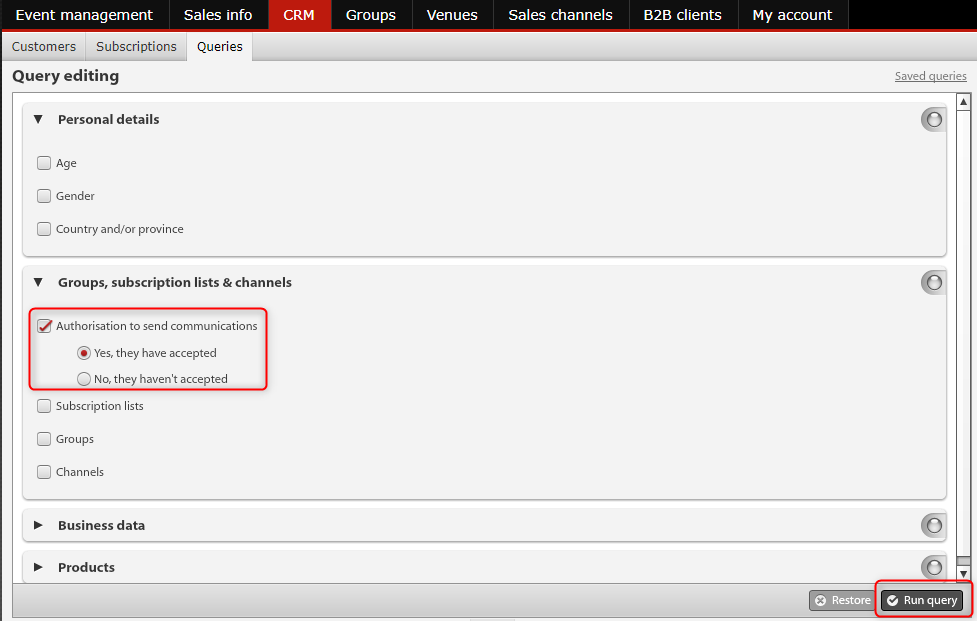 Once the report has been run it is possible to:
Save query parameters for future use. These queries will be saved in Saved queries
Update query
Select columns if we need to add more details to our report
Export results
Add to a distribution list that must have been previously created in the Distribution Lists section of the CRM tab. If you want to create distribution lists, see our article How to set up a distribution list.