In this article we explain step by step how to create a group that we will associate with a promotional code. This way you can promote your events by offering different discounts according to the audience or group.  
Remember that you can only set up your own Validation discounts with a Discount Code for the groups that you have created recently. To set up other types of discounts, contact our support team.
1. Go to Groups > Groups Management > New Group

2. On the screen below, enter the name of the discount, the type and subtype of it; and click on OK. (In this case it is always of Type: Internal validation and Subtype: Discount code.)
Once accepted, we see on the screen the General details of the group that you have created and, in the second tab, the discount codes that exist for this group.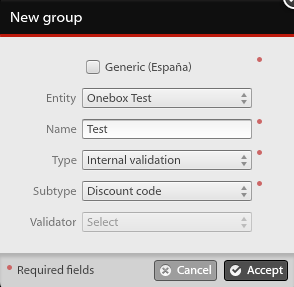 3. To register and activate the discount code, go to the Discount codes tab, enter the name of the new code and click on Add.


Once added, you can edit or delete this code by selecting it and clicking on the Edit or Delete options that appear in the upper right part of the list.
Set out the limitations of use and start and end dates of each discount code:
Limit of uses (Lim.Uses): Enter how many times a discount code can be used.
Starting Date: Enter the exact date on which the code is activated.
Ending date: Enter the exact date when the code is deactivated.
Note: If you do not specify a limit of uses, by default the limit of uses value will be 0 which implies an infinite use of the code.


4. Once the Group and the discount code have been created, the group needs to be associated with the discount. To do this, go to the Discounts tab within the event and the group is associated in the "Procedure" section.
Upload discount codes in bulk on a CSV file
Event management > Groups
Our system allows you to load discount codes in bulk using the option Load CSV. To do this, you need to create a .csv file delimited by commas, that has the column format you see in the image below.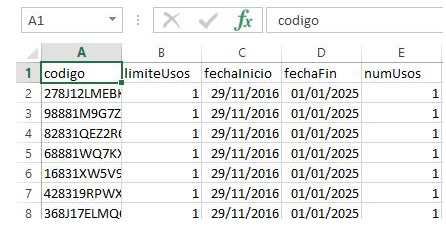 In this file you need to enter the following information:
Discount code
Limit of uses
Starting date
Ending date
Number of uses