Once the event organizer adds a sales channel and sends the request, you will receive a sales request in the email you have configured in the panel. It is necessary to accept the request to start the sale of the event.
To start the sale, the request has to be accepted. First, go to the menu Sales Channels > Sales Requests, and select the option Accept.

In each sales request you find the following sections:
General details
Info. Event: Relevant information of the sales request (General details, contact information of the event organizer, available sessions, capacity, etc ...)
Discounts: Discounts that the channel has available (the organizer must have previously activated it for the channel).
Procedure
In this section there are two key sub-tabs Surcharges and Channel Costs.
Surcharges
Admin expenses that will be applied to the channel can be configured. The system allows you to apply different surcharges for tickets without discount (Generic surcharges) and for tickets with discount (Set alternative surcharges for discounts).
Once configured, the simulation of the price that the customer will pay can be seen in the channel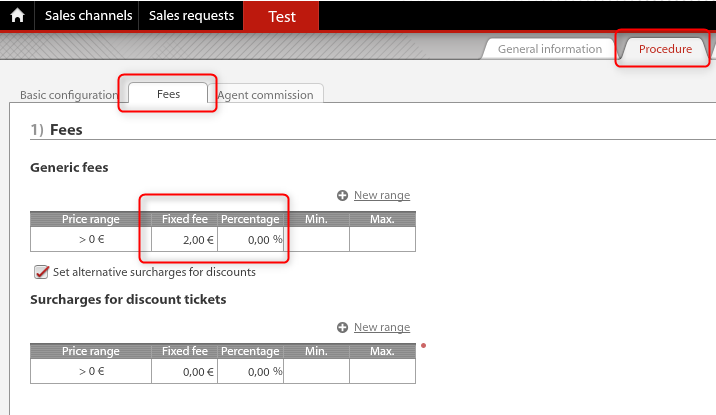 Costs
In this section the Channel Costs for both normal tickets and tickets with discounts are configured. The costs do not affect the price paid by the client.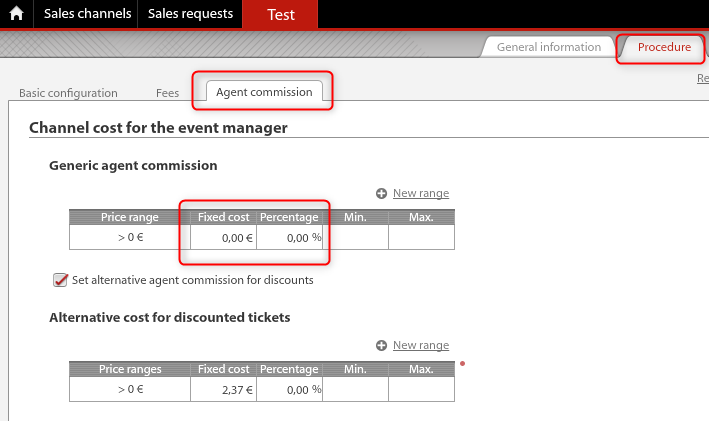 Communication
Web content:
In this section you can add the header banner and the channel banner on the purchase receipt. In the case that nothing is added in this section, the system will take the predetermined banners of the event.
It will also take the web link of the event or even the individual sessions of the event: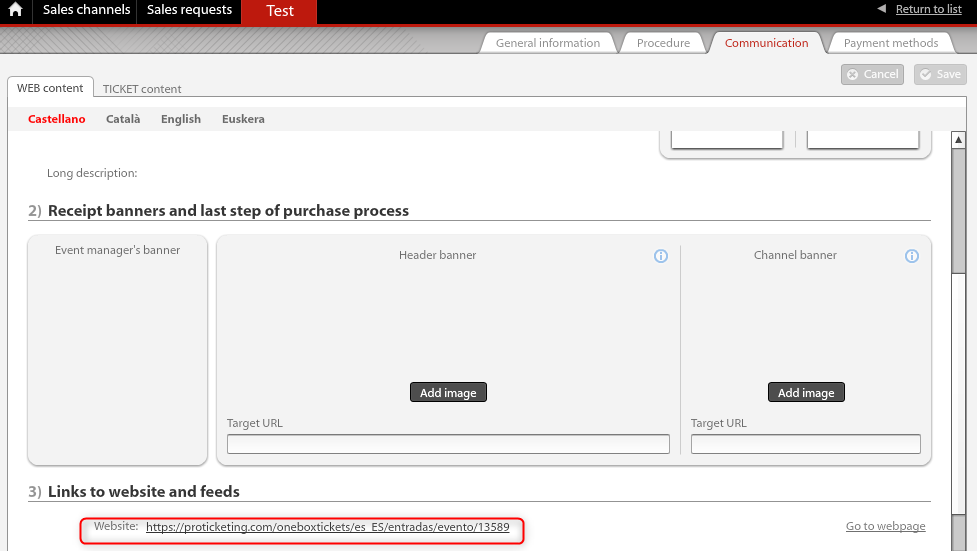 Ticket content:
In this section we can perform the following actions:
Add the header image and the main banner image to the ticket purchase (These are the only two images that can be configured on the ticket at the channel level).
Preview the ticket that the client will receive
For more information about the configuration of ticket images, see the manual: Size on of the images in Cpanel.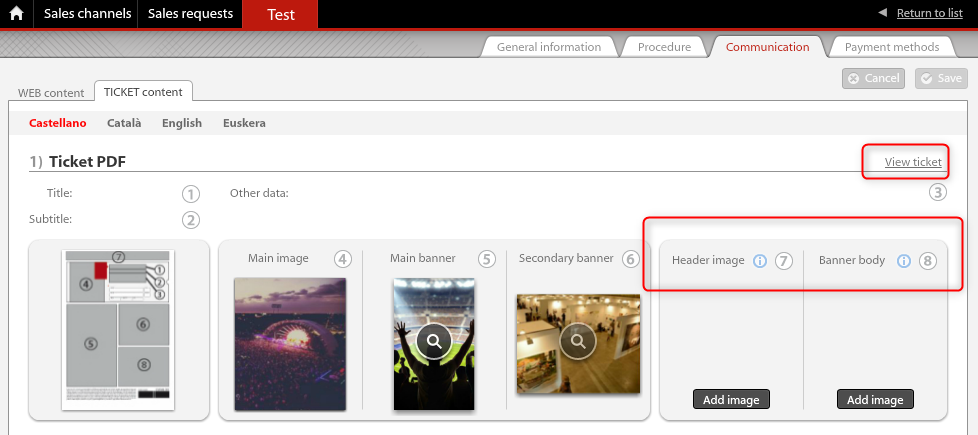 Payment methods
This option allows you to activate a POS different from the usual one, for example the POS of the Organizer. For this, the Organizer has to configure their POS in your sales channel beforehand.
There are two options available:
Use the active payment methods in the channel: With this option, the POS that you have configured in the channel will be used.
Activate specific payment methods for the event: This option allows you to configure a payment method different from the channel (for example, configure the POS of the promoter)
* This option must have been previously configured in the channel POS