To configure the Citizen CL400S printer the parameters must be changed directly on the panel with the following commands: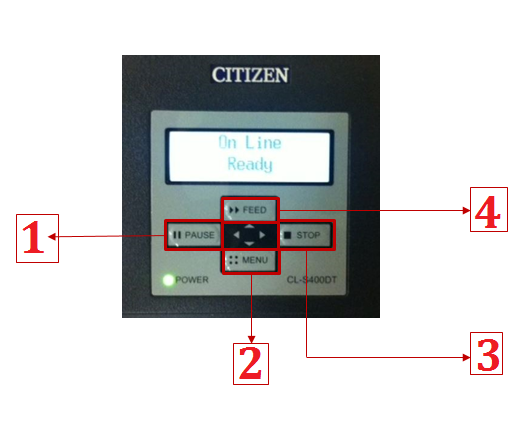 1. Pause and go back to the previous menu.
2. Go to the menu and scroll down within the menu.
3. Stop and go to the option which is shown on the screen or accept.
4. Paper feed and scroll up within the menu.
Configuration parameters
The details that you need to enter in the printer are the following:
Interface
- Web Monitor: ON
- Network address: The corresponding IP address
- Subnet Mask: Corresponding mask, normally 255.255.255.0
- Boot IP: OFF
- DHCP: OFF
System Setup
- Metric/Inch scale: mm
- Emulation sel: ZPL2
- Emulation Auto: ON
Page Setup
- Print speed: 6IPS
- Print darkness: 10
- Cont. Med. Length: 153.0
-  Media sensor: Refled
To finish, once all the parameters have been configured, press the Pause button until we are asked if we want to save the changes. Select Yes scrolling down and confirming with the Stop button.