To configure the performances of an event, go to Performances, following this route Event management > Events. Click on your event and then the Performances tab.
To create a new performance, click on New in the centre of the screen and select the option you need: Create new performance or Create multiple performances.
How to create a new performance
 Complete all the basic details like name, performance starting date, capacity template to which it is linked and the rate and taxes which apply. You can also select the posting in channels date and the sale start date.
 Later, all the information can be modified except the event template that you have selected for each performance.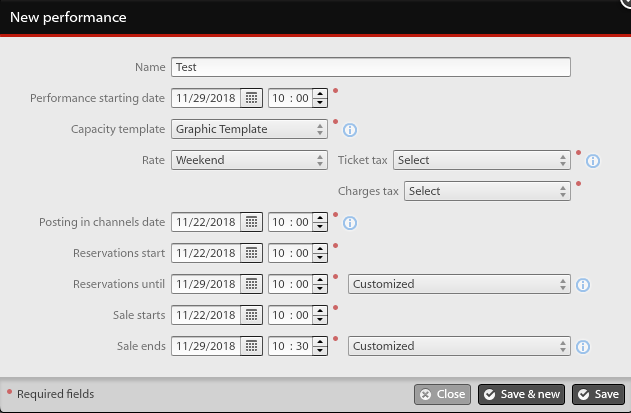 How to create multiple performances
When choosing the option Create multiple performances, follow these steps:
1. Complete the details for a Base performance: name, Length, Capacity template etc…
2. Click on Next and set up the repetitions of this performance, changing the starting date, time and days of the week.
3. Click again on Next and check that you have created all the performances correctly in the calendar.
4. Click on Create X performances and all the checked performances in the calendar will be created.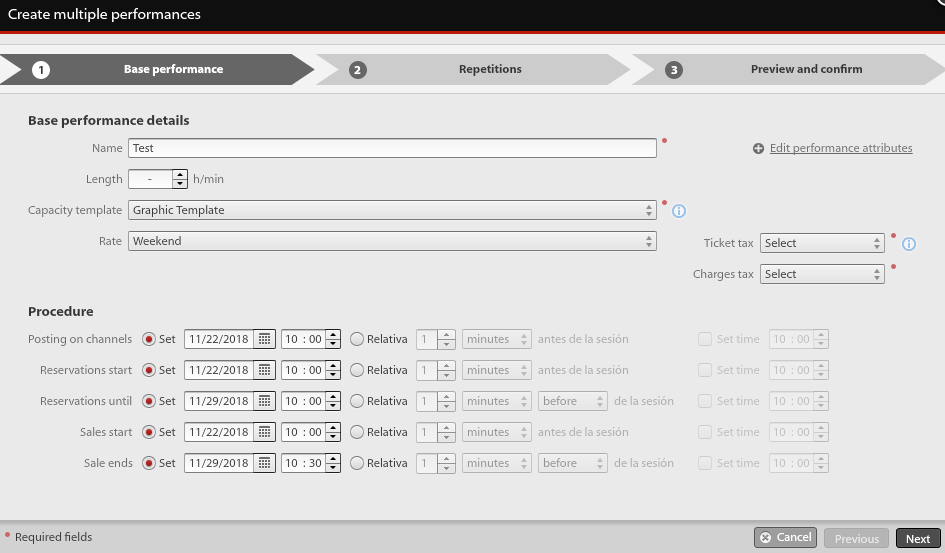 Once created, the details of each of the performances that we can see in a list in the left part of the screen can be configured. By default, all of them will be created with the information of the capacity template to which they are linked, but it is possible to make personalized holds for each performance, changes in the status of the seats and assign sales lots. The price zones cannot be modified since they are defined from the event template. 
To perform customized holds for each performance, select the performance in the menu and modify the detailed information.