As a sales channel and after prior agreement with the promoter, we can configure the surcharges and costs of our channel. We can do this configuration from Sales Channels > Sales Requests > Procedure > Procedure >Fees or Agent Commission
In this section you will find two key sub-tabs Fees and Agent Commission
Fees
Admin expenses that will be applied to the channel can be configured. The system allows you to apply different fees for tickets without discount (Generic surcharges) and for tickets with discount (Set alternative fees for discounts).
Once configured,  the simulation of the price the customer will pay can be seen in the channel.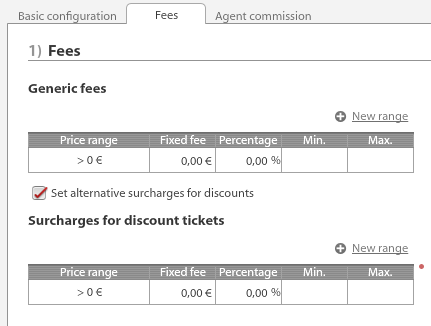 Agent Commission
In this section the Agent Commission are configured for both normal tickets and tickets with discount. The costs do not affect the price paid by the client.