Go to Sales Info > Transactions and on the Transactions list tab you can check the transactions performed and even download the information in excel format (.csv).
To select the information you want to consult you can filter transactions according to:
The sales channel: web, box office or online box office.
The type of transaction: refund, issuance, reservation or sale.
The dates of the transaction or performance.
The promoter of the event.
The type of client: professional or individual.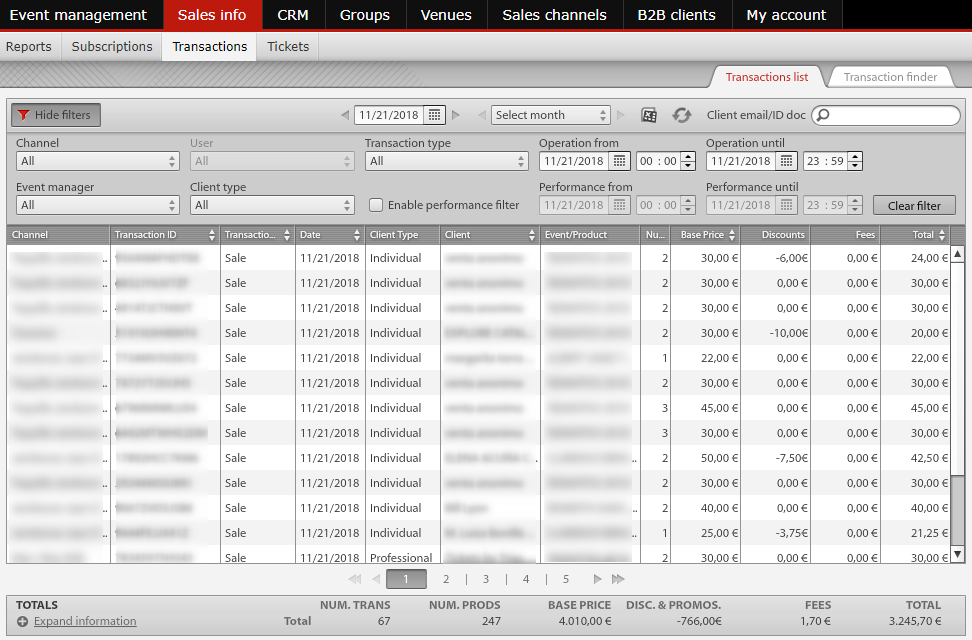 If you activate the session filter, you can also filter according to the date of the sessions of the event.
Remember to click on the Update data (image) button to get the information about the most recent transactions.

Transaction finder
The main feature of this unit is to quickly find a transaction.
It allows you to find a purchase via the reference number. This reference number is found on purchased tickets or the email received.
It also allows you to:
View ticket: Once the transaction code is entered you can view it in the option "View ticket". The ticket, in pdf format, will open on your screen.
Show all tickets of the transaction: When locating a transaction the screen shows information of the transaction:


Transaction: Basic information about the ticket
Amounts: Total amount and breakdown of the transaction
Client: Basic client information (Name, Email, Telephone, Document type, ID Doc)
Tickets: In this section you can see in detail the information about each ticket by clicking on it. You can also get information on the status of printouts and if the tickets have been validated.
Payments activity: Information can be obtained about banking details and forms of payment
Notes / Observations: Enter additional information or notes about the transaction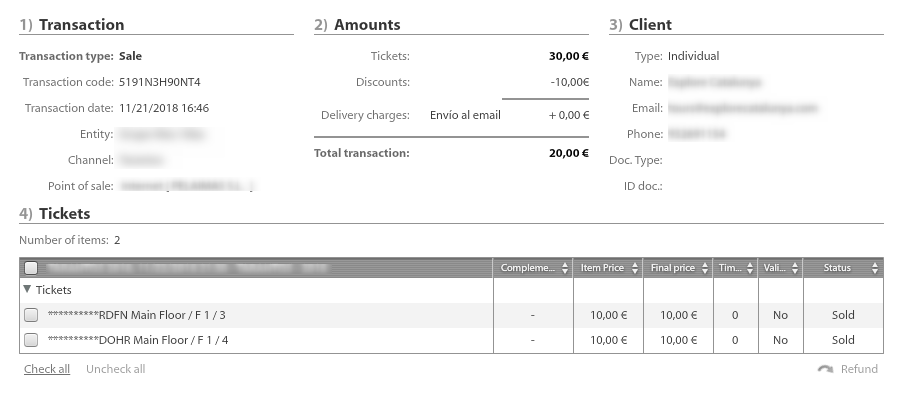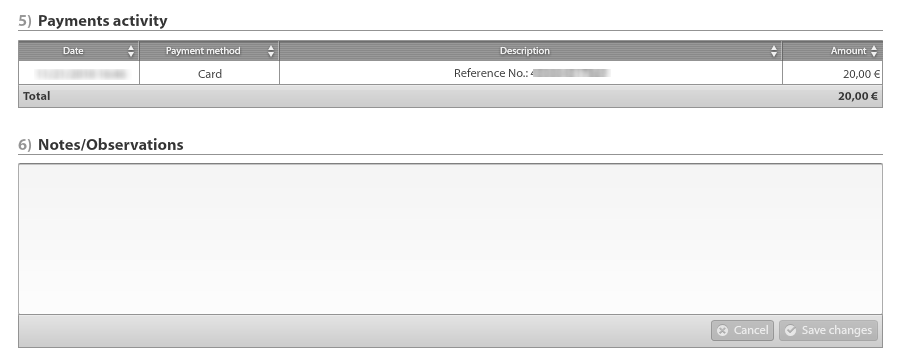 Resend tickets to the email address with which the purchase was made, or even send the tickets to a different email address.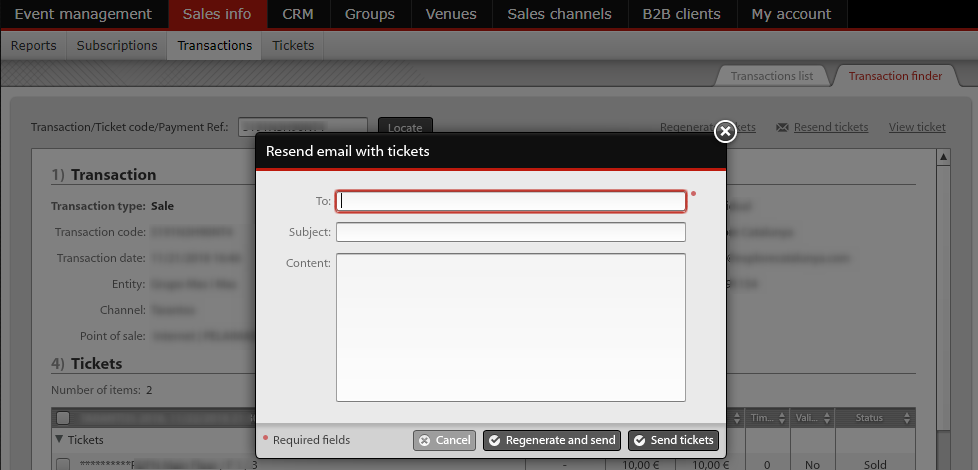 Important: You can rewrite the email to send the tickets to a different email address.  However, this second email address won't be registered on the platform.
Give refunds: Once the transaction and its details have been located, it is possible to refund the transaction.        T
There are two types of refunds:
Automatic Refund: This is an automatic and direct refund to the POS, so no further action will be necessary once the refund has been confirmed.
Manual Refund: This is a refund that only shows the tickets as refunded, it doesn't make the actual economic refund. For this reason, once the manual refund is confirmed from CPanel, the economic refund needs to be manually made at the payment POS platform.
Once we have selected the refund that we need, we select Refund.
Once clicked, a box will be displayed in which two things must be selected, before confirming the refund:
Amount to be refunded (taking into account management expenses)
Type of refund (explained in the previous slide)